Welcome to the press kit page for The Will of Arthur Flabbington. Here you'll find all main info about the game, but in case your questions are unanswered, feel free to contact us.
All images and videos in this page can be found on this Google Drive link.
Basic info
Developer: Gugames
Release date: 10 November 2023
Platforms: Windows, Linux, Mac
Stores: Steam, GOG, Itch
Price: 11.99 USD
Control: point and click
Languages: English (voice and subtitles), Italian (subtitles)
Description
The Will of Arthur Flabbington is a comedy point-and-click adventure game where you're desperately trying to find your uncle's lost treasure with the help of a reluctant ghost sidekick. Inspired by the classic games of the 90's, The Will of Arthur Flabbington will entertain you with its cast of quirky character, constant banter between the two playable characters, and a plethora of brain-wrecking puzzles that will pose a challenge even to the most seasoned adventure gamers.
Thanks to a successful Kickstarter campaign, the game will be fully voiced in English.
Main features:
Click stuff to interact!
Jokes!
Puzzles!
A modern look-first-then-interact interface so you won't miss any juicy hints!
Possess other NPCs*!
Toilet humor!
A state-of-the-art 320×180 resolution, for the hardcore pixel lovers!
More pizzas than you'll ever dream of!
*certain restrictions may apply.
Box and capsule art
Easily downloadable on this Google Drive link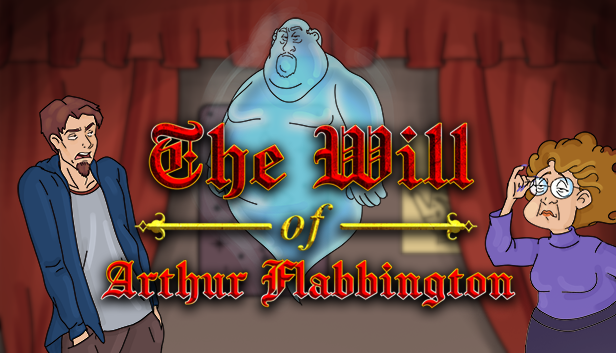 Launch trailer
Screenshots
Easily downloadable on this Google Drive link
About Gugames
Gugames is the developer name behind which the only member, Fabio "Guga" Guggeri, publishes his short point-and-click games. After releasing his first commercial game, the controversially titled Kill Yourself, in March 2020, he focused on participating in 14-days game jams, a formula that allowed him to successfully merge his love for adventure games with his passion for writing short stories. In 2021 he developed a demo version of The Will of Arthur Flabbington, and as of 2023 he published a total of 7 game jam entries, becoming a recognized name among point and click jam enthusiasts.
Website: www.gugames.eu
Socials: Facebook, Twitter/X, Mastodon, BlueSky
Company logos
Easily downloadable on this Google Drive link